Who Needs a Hero?
According to my old Webster's Dictionary a 'hero' is defined as: 'a man of exceptional quality who wins admiration by noble deeds, esp. deeds of courage // the male character of a play, novel etc. about whom the action turns and in whose fate the readers or audience are sympathetically involved.'
In considering those words, I believe the important part of the above definition is the 'in whose fate the readers or audience are sympathetically involved' because frankly, while I love reading epic fantasy, high fantasy, call it what you will, stories with grand knights performing great deeds or powerful wizards casting impressive spells to save the world, they aren't the only characters I sympathize with…
Sometimes a good scoundrel character will garner my sympathy and I'm more than content to read his or her story too. Heck, over the past seven or eight years, it is exactly these types of characters in which I've mostly written about. And occasionally I've wondered, am I wasting my time? Would anyone want to read about a traumatized assassin, the sole survivor of genocide, who is fated to avenge his lost race and often chooses to let his brutal actions speak more loudly than his words? The answer I realized would reside in my ability to get the readers sympathetically involved with him. To that end, I decided that Mallor couldn't 'just' be tortured by his past, he needed to be disturbed by current events as well. During the early stages of The Penitent Assassin, Mallor discovers the only woman he has ever loved has been murdered, and their only daughter has been kidnapped. Now, in addition to his overwhelming need to avenge his race, Mallor is desperately trying to save his daughter too. And when asked why he would risk everything to save her life, he simply answers:
"Because that's what fathers do!"
Perhaps not exactly what a true 'scoundrel' might say considering old Webster's definition of a 'scoundrel': 'a man who acts with shameful lack of principle'.
So I wondered…is Mallor a hero or a scoundrel? He has principles, but he doesn't always exhibit the best qualities. He is a killer after all–but could he be a killer who still wins admiration by his less than noble deeds? 
Which leads me to a series of books written by Joe Abercrombie. I stumbled upon this author by accident this past summer at my public library's book sale. I'd never heard of this author before, but I've quickly become a fan of his work. I was just looking for something new to read when I wasn't working on my own novel and when I read the blurbs written on the back of his first book, The Blade Itself, I was intrigued. I looked inside. Where were the typical 'heroes' one might find in fantasy?
I ended up buying his entire The First Law Trilogy from the book sale (and Mr. Abercrombie, if you happen to read this, even though I purchased those three books second-hand, I've since started working at an Indie bookstore and I've introduced your works to many customers. Based on those sales, I've now convinced the owner to stock your books regularly). I purchased and read Best Served Cold and have ordered the paperback of The Heroes (I checked it out of the library and have read it already, but I wanted my own copy so I'd have a complete set). In the back of Best Served Cold, there is an interview with Mr. Abercrombie, and with his permission (via his wife on Twitter) I'd like to include just a portion of it here.
Q: As one of the main progenitors of the subgenre known as 'scoundrel lit,' how do you feel about the direction the genre is moving in?'
Mr. Abercrombie's answer:  I tend to think of it as "unheroic fantasy," but certainly there seems to be a real current within epic fantasy lately toward darker, grittier, more morally ambiguous, more character-centered writing. I heartily approve of it because it's to my personal taste, but also because I feel that epic fantasy had become a bit repetitive and predictable and variety has got to be a good thing. George R.R. Martin, I think, was very important in demonstrating that this kind of work could be commercially successful, that you could produce books that were recognizably epic fantasy–and gave readers everything they hoped for from the form–but at the same time were unpredictable, challenging, and unapologetically adult in every sense of the word. But guys like Fritz Leiber and Jack Vance were writing morally questionable heroes and seedy settings long before I was born, so I'm not sure I regard myself as any kind of progenitor, just a humble practitioner in a long and proud tradition. Alright, not so humble.
Both Mr. Abercrombie's books and interview were an eye-opener for me. While I had read the occasional gritty fantasy–the above mentioned George R.R. Martin books for example–I hadn't realized there was a true subgenre devoted to this type of fantasy material. And while I wouldn't be so bold as to think I was a progenitor of any new sort of genre, I had simply taken the idea of writing dark, gritty, adult type fantasy from a comment some friends had made after they had read an earlier book I'd written. They loved the rogue's gallery of villains in the book and had joked that perhaps I should write a book solely populated by 'villains'. I thought it was a keen idea and thus the beginnings of The Penitent Assassin's first draft idea were born.
I suppose another influence of the 'scoundrel lit' for me was westerns…in particular western movies. While I absolutely LOVE writing, I am a huge fan of all sorts of movies and one of my favorites is Clint Eastwood's Unforgiven. Now while it is a western, it's not hard to imagine it turned into a fantasy either. Replace the guns with some form of magic or swordplay and the story would still hold up. And in doing that, in my mind, a perfect example of 'scoundrel lit' is apparent. Anyone familiar with the movie will quickly understand what I mean — Clint Eastwood's character is a wicked man…a 'killer of women and children'. Morgan Freeman's character used to ride with Eastwood. Gene Hackman's character, the 'villain' in the movie, is really just a brutal sheriff attempting to keep the peace any way he can (usually by beating a person to within an inch of their life) while building his house (badly), and The Kid wants to be a cold-blooded killer. None of the main male characters are 'nice' or 'heroic' in any real sense of the word, however, we sympathise with Eastwood's character because we can see the struggle he's going through attempting to remain a 'good' person for his wife and children despite the fact that his wife died years ago. Even after he resorts back to his true form, the audience still sympathizes with this 'unheroic' character because of all the characters on the screen, he's the only one who seems to have a noble cause.
So…is that enough? Do you need a 'hero' in the true sense of the word or is a simple man, a scoundrel even, good enough to hold your attention as long he is sympathetic and has a noble cause?
Thanks for visiting. I look forward to your replies.
To check out my book, The Penitent Assassin you can find links to Smashwords.com, Amazon.com and Barnes&Noble.com at the top of the right-hand column of this blog or click the following links:
Smashwords: http://www.smashwords.com/books/view/84281
Amazon: http://www.amazon.com/dp/B005JKR95U
Barnes&Noble: http://www.barnesandnoble.com/w/the-penitent-assassin-shawn-wickersheim/1105383859?ean=2940011490323&itm=1&usri=shawn%2bwickersheim
You can find out more information about Joe Abercrombie and his books here:  http://www.joeabercrombie.com/ 
For more information about Clint Eastwood's Unforgiven: http://www.imdb.com/title/tt0105695/
Tags: Amazon, Barnes&Noble, Clint Eastwood, George R.R. Martin, Heroes, Joe Abercrombie, Scoundrel Lit Fantasy, Smashwords, The Penitent Assassin, Unforgiven, Writing
About inkcompetentwriter
Author of The Penitent Assassin and The Rush of Betrayal duology available at Amazon.com and Smashwords.com.
The Penitent Assassin
The Penitent Assassin Cover Art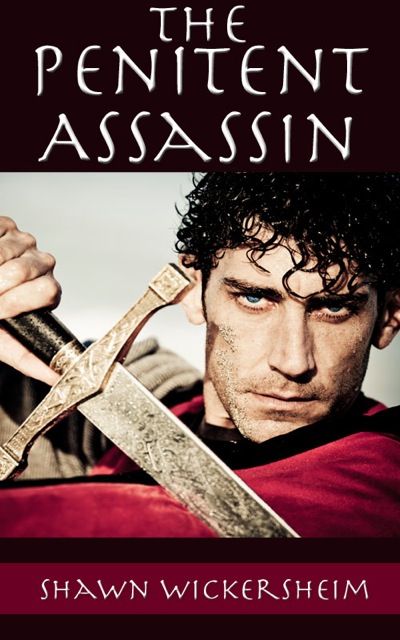 About Me
In addition to being the author of the fantasy ebooks, The Penitent Assassin, The Rush of Betrayal: Deception (Book One) and The Rush of Betrayal: Absolution (Book Two), I'm a husband, a father to two active kids (one is a teen now), a part time bookseller and an avid reader. On the rare occasion I have free time, I like to bike, read, play video games, and watch movies. Being an author has been a lifelong dream, and currently I'm hard at work writing/editing my next fantasy novel.
Archives
Blogroll