An Interview with Walter Shuler, author of Celadonian Tales Vol: 1 Blood and Brass
Welcome Readers to a new addition of The Ink-Competent Writer Blog — Author Interviews. My first interview is with the very talented Walter Shuler. Recently, I had the pleasure of reading his book, Celadonian Tales Vol: 1 Blood and Brass. As I wrote in my review, the book "is primarily three well-crafted, well-written short stories linked together by a mysterious narrating storyteller camped outside the great city of Celadon-home to things both beautiful and terrifying." If you have not had the pleasure of reading this book yet, you should get over to Smashwords or Amazon and pick up a copy of it.
And now, ladies and gentlemen, I'm proud to present, Walter Shuler.
1. Let's start by having you tell the readers a little about yourself? And not just where you're from and what you like for breakfast, but what makes you tick (besides coffee)?
You mean there's something OTHER than coffee out there? Ha! Well, I'm a fantasy writer who lives in Georgia… oh, wait. You said what makes me tick? Hm. You know, that's actually a pretty tough question.
I'm a pretty uncomplicated guy. Providing for my family gets me up in the morning, and telling stories helps me keep my sanity in a world that increasingly bewilders me. I value family and good friends (and a good stout!). I'm an escapist at heart, and that's definitely one of the reasons that I choose to write and read fantasy.
I'm not sure that really answers your question, but I hope it'll do. We can always do a vivisection to find out for sure!
2. When did you realize you were a writer?
I've written all of my life, really. I don't think there was any defining point at which I said – "Hey, self, you're a writer!" It was just something that was always with me and that I always did. I didn't necessarily always think I'd make a living writing, but it has always been a part of who I am and what I do.
3. Do you have a daily or weekly writing schedule? Are there any rituals you need to perform before sitting down to write? Do you wait for the muse to show up or do you just trudge along without him/her?
Schedule? What is this "schedule" of which you speak? No, no schedule. I write when I can fit it in. I try for once a day and am happy with 3/4 of that. Being a full time freelance writer, a husband and an involved father makes it hard – you know the drill – juggling work, family time, obligations outside the house. Makes it hard to find "me writing" time.
Rituals… other than sacrificing the occasional goat in the circle out back of the house, no. My muse is kind of finicky – she shows up when she wants. I soldier on without her when I have to.
4. Aside from writing, do you have any other creative outlets?
I read a good bit, though not as much as I used to by any means. I play the occasional video game. My boys and I play WoW together, and I'll fire up the Xbox every now and then to play DragonAge or something. I also enjoy comics and have found a TON of freaking awesome webcomics via Twitter.
5. In what genre(s) do you; write, read, and wish you had more interest?
I tend to write fantasy, though it gets a little darker than "traditional" fantasy at times. I've plans for some sci-fi stuff as well.
I read a lot of fantasy, as well as a lot of history books. I also enjoy horror (Barker, King) and writers like Neil Gaiman.
What do I wish I had more interest in? I guess "normal" stories. I'm an escapist at heart, so I find getting into regular, boring old fiction, well, boring.
6. What authors and/or books are your favorites? Which authors and/or books do you tell yourself, I really should read them someday?
Oh, favorite authors and books? Man, that answer could take pages… I guess I'd have to list Tolkien at the top, though Michael Moorcock, Fritz Leiber, Roger Zelanzy, Tad Williams, Clive Barker, Morgan Llewellyn and Raymond Feist are also right up there.
For things that I REALLY should read some day: HP Lovecraft (no, never read any of it).
7. How do you prepare for a new writing project? Are you a plotter or a pantser? Do you do lots of research first? Prepare character sheets? Perform human sacrifices to your writing muse?
Honestly, it depends on what the project is. For Gods of Sand and Stone, I did massive amounts of research before starting the graphic novel script. For Blood and Brass, not so much. I have scads of history books, "the history of…" etc. I've developed a pretty decent research library where anything medieval or ancient is concerned. At last count, I had 65 or so history/research books pertaining to medieval or ancient European history (I know that's a pittance compared to a lot of writers, but, hey, I'm trying!).
I'm definitely a plotter, though I haven't always been. Also, my level of "plottiness" varies. With Gods of Sand and Stone, I made detailed outlines for the entire thing. For a lot of my other stuff, a high-level outline is really all I need.
Character-wise, I sometimes do make up character sheets, but mostly I just keep notes on them as they evolve in my head. Human sacrifices are a thing of the past around here – too many questions and disposing of the bodies is just tough.
8. What gives you the greatest pleasure during the writing process? What troubles you the most? Why?
My greatest pleasure during the writing process is probably the initial idea and outlining, world building and all that. I can get carried away with planning and thinking, and it leads to some interesting destinations that don't always make it into the stories.
I think what troubles me the most in writing is just finding time to do it. I still struggle daily with finding time, but I do manage to wedge a little bit in here and there.
9. Tell us a little about the book(s) you've written. Were they traditionally published or did you decide to go the Indie route? Where are they available for purchase? Go ahead; this is the shameless plug time!
My first (and only book at the moment) is Celadonian Tales Vol 1: Blood and Brass. It's not really a novel, though. Rather, it's a collection of three short stories set in a shared setting. It's out on Smashwords  on Amazon , B&N, iTunes, etc.
Blood and Brass is an indie book, and it's only available for ereaders at the moment.
10. Which publishing route do you see yourself going with your future books? Indie or traditional or both?
Honestly, I'll probably stick with indie publishing, at least for now. Traditional publishing is not out of the question, but the older I get, the less I like people dictating things to me 🙂
11. Do you have writing and/or publishing goals for the next five or ten years?
No set goals, other than just keep on trucking with the writing. I have 20 or so story ideas that need to be fleshed out, though I'm trying really hard to work on just one thing at a time. Jumping from project to project is probably one of my worst habits as a writer.
12. What advice would you give yet-to-be-published authors?
Keep working at it. It will come. It's not simple, or easy, but it will come.
13. I get this question all the time, so I'll pass it on to you — where do your story ideas come from? Without getting yourself into too much trouble, are the characters in your books drawn from family and friends or from total strangers you may have noticed while people watching?
My story ideas are drawn from a lot of different places. I like reading mythology quite a bit, and some come from questions that arise while reading it (that's where Gods of Sand and Stone came from, actually). I get inspiration from TV shows, from life around me; from other writers… you can find story ideas almost anywhere.
My characters aren't really based on anyone I know per se, though some of them do incorporate some character traits of those around me. A lot of it comes from me I suppose. A lot of others are based on historical or mythological people.
14. You do people watch, don't you? And if so, where is your favorite place to do this and what 'characters' have discovered along the way?
Actually, I don't people watch very much. I know, I know – what writer DOESN'T people watch? I rarely find myself in a situation where it's possible to do, but I do try to do some.
15. What is the strangest thing you've ever done while researching or preparing to write a scene for a book? Have you ever used the 'but, it's for research' excuse to justify something to your significant other?
I don't know that I do anything weird while preparing, researching or even while writing. Unlike Hugo and Riley, I tend to write with my clothes on. I do tend to go off on research tangents. Staring research for a particular scene might lead me to another point, and then another and another until I've eventually killed all my writing time just through reading and research.
I've definitely used that "it's for research" excuse! The good thing is that since I'm an ancient/medieval fantasy buff, it really is for research as much as it is for personal reading. I don't know that I've ever bought an item or done an activity that way, though.
16. Speaking of significant others, tell me, how well do they put up with you and your writing needs?
My wife has been incredibly encouraging 🙂
17. Can you tell us a little about what you're currently working on?
Well, at the moment I've just finished translating Gods of Sand and Stone from graphic novel script format into first draft novel format. I'm taking a breather from that and working on a Celadonian short – a sequel to The Clockwork Men from Blood and Brass, actually.
BTW, I guess I should actually tell you what GoSAS is about – it's VERY loosely based on Irish mythology, and is set not too long after the Milesian invasion and the subsequent withdrawing of the Tuatha de Danann from the mortal world. It revolves around Conn and his search for vengeance on those who slew his family, though it goes deeper than that.
18. What book(s) are you currently reading and / or planning to read next? What book(s) do you consider your guilty pleasure?
Currently, I'm reading… well, several books, actually. I'm reading The Lesser of Two Evils by Zoe Whitten, as well as rereading Magician by Raymond Feist. Just finished Wolves of the Calla by Stephen King and about to start Song of Susannah. I'm also still in the middle of The Vikings by Robert Ferguson (history book, not fiction).
19. Before we go, please tell us something unique about you, something unrelated to writing.
Something unique about me? I'm a pretty average guy. I was born overseas, though – Zaire, actually (now the Democratic Republic of the Congo). Is that unique enough?
Walter lives with his wife and sons in the hinterlands of Georgia. He writes fantasy, dark fantasy and unclassifiable mish-moshes. You can find him on Twitter most of the time at @anakronistical or check out his website http://hallalitriocht.com/.
Tags: Amazon, Interview, publishing, Smashwords, Walter Shuler, Writing, writing goals
About inkcompetentwriter
Author of The Penitent Assassin and The Rush of Betrayal duology available at Amazon.com and Smashwords.com.
The Penitent Assassin
The Penitent Assassin Cover Art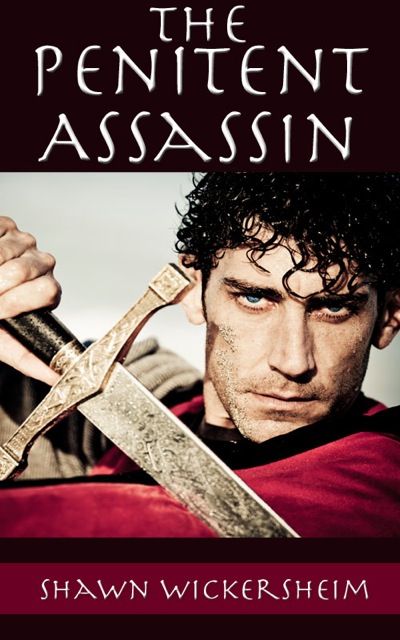 About Me
In addition to being the author of the fantasy ebooks, The Penitent Assassin, The Rush of Betrayal: Deception (Book One) and The Rush of Betrayal: Absolution (Book Two), I'm a husband, a father to two active kids (one is a teen now), a part time bookseller and an avid reader. On the rare occasion I have free time, I like to bike, read, play video games, and watch movies. Being an author has been a lifelong dream, and currently I'm hard at work writing/editing my next fantasy novel.
Archives
Blogroll