A Year of Books
Yeah, yeah, not a fancy title but it's still early on 2012 and my brain isn't fully functioning yet. And before you jump to conclusions, no, I didn't drink heavily last night, nor am I suffering from a hangover, I'm just a little off on my already odd sleep cycle. Blame it on the new video game. (More about that in another post).
First off, Happy New Year. While 2011 was a pretty good year – hey, I published my first book, The Penitent Assassin in 2011 – I'm really looking forward to new adventures in 2012. New books as well. Both to read and to publish. One of my writing goals this year is to publish at least one more novel. I'd love to make it two, but I'm not sure if I'll have enough free time to accomplish that. I'd also love to get my short stories polished and perhaps publish a few of them as well.
But this post is supposed to be about the books I read in 2011. If I include my own book, The Penitent Assassin, and the rough draft of the new book I'm currently working on, I read 50 books in 2011. Eight of those were graphic novels — that counts, right? Still, even if you don't count them, I'm happy that I read over 40 'books' in one year….plus published a book…plus began a second new job at the bookstore…
Yeah…I hear you…on with the list! I debated about writing comments about the books, and then decided that I'd only make a few comments after the list was complete–primarily on the books I loved. However, please keep in mind, even if I don't comment on a book, it doesn't mean I didn't like it. For the most part, I enjoyed almost all of the books I read in 2011….(I normally don't finish books I dislike).
1. Legends of Shannara: Bearers of the Black Staff by Terry Brooks
2. New Spring the Novel (The Wheel of Time: In the Beginning) by Robert Jordan
3. Pirate Latitudes by Michael Crichton
4. True Grit by Charles Portis
5. Darkly Dreaming Dexter by Jeff Lindsay
6. The Lightning Thief (Percy Jackson & The Olympians: Book One) by Rick Riordan
7. Batman "Hush" (graphic novel) by Jeph Loeb
8. Crossover: A Cassandra Kresnov Novel by Joel Shepherd
9. Hotel on the Corner of Bitter and Sweet by Jamie Ford
10. Catching Fire by Suzanne Collins
11. Mockingjay by Suzanne Collins
12. If You Want to Write by Brenda Ueland
13. Hostage by Robert Crais
14. Winter's Bone by Daniel Woodrell
15. Fight Club by Chuck Palahniuk
16. Alice's Adventure in Wonderland and Through the Looking Glass by Lewis Carroll
17. The Blade Itself (The First Law: Book One) by Joe Abercrombie
18. Deliverance by James Dickey
19. Before They Are Hanged (The First Law: Book Two) by Joe Abercrombie
20. The Fire in Fiction: passion, purpose, and techniques to make your novel great by Donald Maass
21. Last Argument of Kings (The First Law: Book Three) by Joe Abercrombie
22. Transformers: Dark of the Moon (movie novelization) by Peter David
23. Sin City: The Hard Goodbye (Vol 1) by Frank Miller
24. Sin City: A Dame to Kill For (Vol 2) by Frank Miller
25. Sin City: The Big Fat Kill (Vol 3) by Frank Miller
26. Sin City: That Yellow Bastard (Vol 4) by Frank Miller
27. Sin City: Family Values (Vol 5) by Frank Miller
28. Sin City: Booze, Broads, & Bullets (Vol 6) by Frank Miller
29. Sin City: Hell and Back (Vol 7) by Frank Miller
30. Dearly Devoted Dexter by Jeff Lindsay
31. The Man with the Golden Touch (How the Bond Films Conquered the World) by Sinclair McKay
32. Dexter in the Dark by Jeff Lindsay
33. The Old Man and the Sea by Ernest Hemingway
34. Best Served Cold by Joe Abercrombie
35. Conspiracy Theory (movie novelization) by J. H. Marks
36. The Night Circus by Erin Morgenstern
37. The Penitent Assassin by Shawn Wickersheim
38. The Heroes by Joe Abercrombie
39. The Family Fang by Kevin Wilson
40. The Last Werewolf by Glen Duncan
41. (UNTITLED rough draft of new novel) by Shawn Wickersheim
42. Ready Player One by Ernest Cline
43. Leviathan (Book One) by Scott Westerfeld
44. My Swordhand is Singing by Marcus Sedgwick
45. The Iron King (Book One of The Iron Fey) by Julie Kagawa
46. Daughter of Smoke and Bone (Book One) by Laini Taylor
47. The Falling Machine (Book One) by Andrew P. Mayer
48. The Angel Hunter by Jerrod Begora
49. The House of Silk by Anthony Horowitz
50. The Strange Affair of Spring Heeled Jack (Book One) by Mark Hodder
EDIT TO ADD: Ooops, forgot one!
51. Au Revoir, Crazy European Chick by Joe Schreiber
As you see, I read quite a few 'Book One's and I'm looking forward to many of the 'Book Two's. A nice mix of fantasy, I think — some steam punk, some classic, some gritty, some urban along with some classics, dramas, thrillers and even a couple of non-fictions thrown in too. I finally got around to reading the Sin City series by Frank Miller (loved them) and finishing up The Hunger Games series(loved them too).
I was very happy I found Joe Abercrombie's books — truly enjoyed every single gritty one of them — and I absolutely loved The Night Circus by Erin Morgenstern. What an amazingly beautifully written book! As was Jamie Ford's Hotel on the Corner of Bitter and Sweet. If you haven't read any of these books, you really should find the time to do so.
After watching the Dexter TV series, I was curious about the Dexter books and while I've only read half of them so far, I'm planning on finishing up the rest someday (though admittedly, I didn't like the third book as much as the first two). It happens.
There are quite a few books I started near the end of 2011 but I didn't quite finish them before the midnight deadline last night (darn video game!). I'll likely attempt to do a quarterly posting of my reading list in 2012.
Okay…well, this post was rather long. I think I'll shut up now and go read for a little while before heading out for Christmas #4 with the in-laws later this afternoon. I hope you all had a wonderful and safe celebration last night and 2012 is a great new year for you! I have some plans for this blog for 2012; author interviews, some book reviews, writing notes, updates about my books, and even the occasional personal post (I'd like to lose another 10 pounds in 2012 (lost 20 in 2011). Care to join me on your weight loss quest? I'm planning on increasing my exercising this year…how about you?)
Also, what are some of your reading goals? I'd like to read another 40-50 books this year and 'discover' a few new authors. Any suggestions?
Happy New Year!
Tags: 2012 goals, About Me, Authors, Books, Fantasy, Graphic Novels, Literary Novels, Reading, Reading Lists, Science Fiction, Thrillers, Westerns
About inkcompetentwriter
Author of The Penitent Assassin and The Rush of Betrayal duology available at Amazon.com and Smashwords.com.
The Penitent Assassin
The Penitent Assassin Cover Art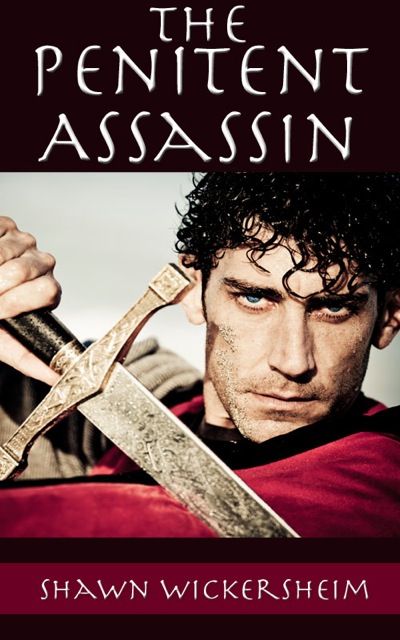 About Me
In addition to being the author of the fantasy ebooks, The Penitent Assassin, The Rush of Betrayal: Deception (Book One) and The Rush of Betrayal: Absolution (Book Two), I'm a husband, a father to two active kids (one is a teen now), a part time bookseller and an avid reader. On the rare occasion I have free time, I like to bike, read, play video games, and watch movies. Being an author has been a lifelong dream, and currently I'm hard at work writing/editing my next fantasy novel.
Archives
Blogroll