Interview with Indie Author Anastasia V. Pergakis
Hello Online Friends and Welcome to 2012. Today, I'm interviewing Indie Author Anastasia V. Pergakis, author of the fantasy novel, Cleanse Fire. We 'met' on Twitter (I've met so many wonderful authors on Twitter) and I thought I'd share with you my interview with her. Without further delay, Anastasia, welcome…let's begin:
1. Anastasia, I understand you're married, a mother of a young boy, and a stay-at-home mom. Being a stay-at-home dad myself, I know how hard it can be to find free time to write. How do you find the time and energy to be creative? Do you have a writing schedule? If so, does it help balance your writing life and your family life? 
I don't know if I ever really "find" the time and energy. It's more of…I overdose on caffeine! And really, I just have the mindset that it needs to be done and so I do it. The caffeine merely allows me the energy to do it all at once!
No actual writing schedule. I do what I call Binge Writing. I'll write 5,000 words one day but then not write anything for three days after that. But then I'll punch out another 5,000 words on day four. I don't think it keeps my life in "balance" exactly but it makes for less stress for me. I don't have to stress out over "Oh no, I didn't write today!" because I know that it's okay. I still make my bigger goals and deadlines and that's okay with me. 
2. Tell us about your recently published book. Do you have a short synopsis you'd like to share? Who do you see as your target audience? Where can we go to buy it? 
Cleanse Fire is a fantasy adventure novel, with edge-of-your-seat action. Epic battles, suspense, and a bit of romance too! Follow the Kinir Elite as they track down a traitor and find more than they bargained for. **Portions of profits for this book are given to the Wounded Warrior Project** 
Complete the mission, no matter what…
Captain Derac Vidor has served Kinir for nearly twenty years. It's his life, his blood. And then his Commander betrays everything Derac holds dear. Now he has to focus on his own life and his team instead of saving the citizens of Kinir. 
Treason is only the beginning…
Fueled by rage, the team chases the source to their Commander's betrayal – a powerful wizard bent on revenge. The wizard seeks to destroy the Kinir Elite, in both mind and body. No place is safe, even among their allies.
 The past holds the key…
Derac's tragic past may be the key to saving the team. But can he face the gruesome nightmare in time?
 Purchase Cleanse Fire
3. When did you first realize you were a writer? Has writing been a life-long dream or a recent development?
 Well, I wouldn't say life long dream but I have been writing my entire life it seems. I've always wanted to be a writer, I just never thought it would actually be my career. So, I didn't think of it as anything more than an obsessive hobby until I was an adult. I did some research and thought "Hey! I could totally do this for a living!" and after that I just worked at building a network and getting my books ready for publication.
 4. Do you enjoy plotting your novels ahead of time, or do you prefer to write by the seat-of-your pants?
 I do a little bit of both I think. I have a very loose idea of the plot before hand, which I write down, but it's still very much open on what will happen. Cleanse Fire for example, the plot idea I had before writing was this (taken directly from my notes!) "Elite elves take down a traitor hungry for power; realize more players are involved in the treachery." And that is it. The entire novel was crafted from that one statement. Other books the plot summary is a bit more detailed but it's still very generalized to leave surprises for me as I'm writing.
 5. When you start a new project, do you start with a character in mind or a story problem?
 Oh, the characters walk up to me and say "I have a story for you" then I sit down and listen. Seriously – they do. *looks around for the authorities to take me to the loony bin*
 6. What led you to decide to go the Indie route? Would you ever choose to follow the more traditional route of publishing?
 I was submitting Cleanse Fire to agents and publishers for a few months and it literally gave me headaches, full on migraines sometimes. I felt sick for months. I've received rejection letters before and they never bothered me. I would just shrug it off and wait for the next one. But this time around it was devastating! I cried every other day. It was awful. In an attempt to keep my mind on something else, I started researching Indie publishing and how to go about it. I finally made the decision to do it. Instantly, no more headaches, no more upset stomach. I slept better than I had in months. Indie publishing isn't for everyone and I'm not against traditional publishing – but apparently, it wasn't for me. I don't regret my decision and will be Indie forever!
 7. I'm sure you've heard the old writing advice, 'write what you know'. I've also heard the advice, 'write what you can research'. Can you tell us something interesting you've had to research for any of your novels?
 Hrmm, well I do a lot of research about weapons – sword, arrows, etc – and I find that stuff fascinating really. Then there is researching Old English (thee, thy) or Latin translations. I find all research fun; like bouncing in my chair and squealing sort of fun. So I'm sure the most interesting thing to me, would make the readers here look at me like I'm crazy – if they haven't already! But, I think the most interesting thing I've ever researched was weapon making. How the weapons are actually forged and molded and put together.
 8. What other creative outlets do you have? Do you play music, draw, sing and when you're stuck in your writing, do any of these other outlets help get you writing again?
 How long do you want this post to be? Let's see, I design websites and do other graphic art types of things. Trying to get into designing cover art. That definitely gives me some inspiration working with other writers and artists to design their websites for them.
 Before my son was born, I liked to sew, carve wood, build model cars, design houses, and design medieval dresses. I don't do much of that anymore as I just don't have time, but my writing still allows me to do some house and clothes designing as I create places and outfits for my characters. I sketch them out and keep them in my three ring binder where I keep all my notes for the book.
 9. What inspires you? Family? Nature? Music?
 Anything. At any given moment, a word, a facial expression, a color, a sound can spark inspiration for a scene or even an entire book. I'm never out of ideas!
 10. What do you find easiest about writing? What is the hardest?
 The easiest and the hardest is both the writing part. I mean, some days it's just there! The words flow effortlessly, I can't type fast enough to keep up! Then other days, it's like pulling teeth. I barely get a few words written down before my head explodes!
 11. We're only a few days/weeks into the new year. Did you make any new year's resolutions? Have you broke any of them yet?
 I don't really make resolutions. I mean, I do want to improve on some things I guess. I want to blog more often, write more often, spend more time with family, etc but, I've found that the minute I call it a "resolution" is the minute I don't want to do it. Which in turn means I won't do it all. So, I don't necessarily make a big thing about new year's resolutions, since after all, if I don't make one, I can't break it!
 12. Along those same lines, what are your writing and/or publishing goals for 2012 (and beyond)?
 Blood Trade, the sequel to Cleanse Fire is coming out in early summer of this year. I also have a YA fantasy novel, Ryn's Quest, that will be out early fall. For the years to come there is the rest of the Kinir Elite Chronicles series. I hope to release one every 6 months. I have another fantasy series, The Faery's Tale to release as well. Many other books on my list! So much more to write in the future – like I said, I'm never out of ideas.
 13. Who are some of your favorite authors and/or books? Which author(s), if any, have made an impact on your life?
 This is hard to answer because honestly, I rarely all out hate a book. Sure, there are ones that I thought could have been written better or that I just didn't care for, but I've never h a t e d a book in my life. But, looking at my bookself, the author that shows up most often is Mary Higgins Clark. I love her books and will ready anything of hers just because she wrote it!
 As far as writer's that have impacted my life – it's a long list. But, my top two are definitely my crit partners, Charlene A. Wilson and J.D. Brown. They have been my best friends and truest supporters for years. They are my biggest fans for sure. I talk to them literally every day and we are so close, so into each others stories, that when one of us has a bad day of sales or get a rejection, the other two feel like it was our own book. But, we also feel the same excitement on a release day and when we have good sales. It's great!
 14. Can you tell us a little about what you're working on now?
 Right now, I'm writing Blood Trade. It's going slow at the moment as the tour for Cleanse Fire is taking up a lot of my time, but once the tour is over I'll get to writing full speed! I also try to edit Ryn's Quest when I get a free moment. That's not often of course, but I want both books to release this year, so I have my work cut out for me.
 15. Okay, we're almost done. Just a few more questions. Can you tell us something unique about yourself?
 Ummm…I'm afraid to answer this as it could land me in trouble. I mean, I'm sure your readers already think I'm completely mental. But, let me think here. Hmm. Ah, here we go. I'm painfully shy, in real life. Seriously. I'm all over the internet chatting it up and meeting new people all the time. But in the offline world, I'm a social wreck. I seriously don't know how to talk to people most of the time and just freeze up after "Hi. How are you?"
 16. If you could go anywhere in the world where would you like to visit?
 Germany. I was born there and lived there for years as a kid but I don't have any memory of the place. I will make it there someday!
 17. If you could travel in time, when would you like to visit?
 Just for a visit? The medieval ages, hands down. I wouldn't want to live then, but visiting I think would be so much fun.
 18. What are three things on your "Bucket" list?
1. VisitStonehenge
2. Be A Published Author (Check!)
3. Touch someone else's life in a positive way
 19. Have I forgotten to ask you anything you'd like to discuss?
 Nopes. 🙂
 Thank you very much, Anastasia! Please before you go, can you give the readers some information about how they can find you online?
 Join the Kinir Brigade by signing up for our newsletter! Get exclusive deals, access to special giveaways, and inside information about the series! Join the Kinir Brigade now and receive the first five chapters in your email! And don't forget to visit our Facebook Page and Website too!
                                                                  ~ * ~ * ~
 I'm giving away an e-book of Cleanse Fire! Leave a comment on this post to enter into the random drawing. I'll draw the names at the end of my tour,January 31, 2012. If you want more chances to win a copy, visit our website to follow our tour! The more comments you leave, the more chances you have to win!
All commenters will also be added to the drawing for a chance to win a signed hard cover. Drawing for the hardcover will be on January 31, 2012, the end of my tour.
You can also get more chances to win by tweeting or posting on facebook! Just leave a link to the tweet or post in a comment below!
**All Winners will be announced on the Kinir Elite Website on February 1st**
Great! Thanks again for stopping by and chatting with us today. Good luck with getting those edits done on your next book! 🙂
Tags: 2012 goals, Amazon, Anastasia V. Pergakis, Authors, Barnes&Noble, Books, Fantasy, Interview, publishing, Smashwords, stay at home dad, stay at home mom, wounded warrior project, Writing
About inkcompetentwriter
Author of The Penitent Assassin and The Rush of Betrayal duology available at Amazon.com and Smashwords.com.
The Penitent Assassin
The Penitent Assassin Cover Art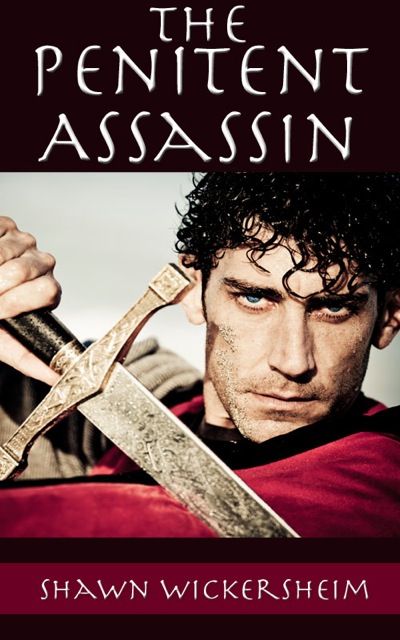 About Me
In addition to being the author of the fantasy ebooks, The Penitent Assassin, The Rush of Betrayal: Deception (Book One) and The Rush of Betrayal: Absolution (Book Two), I'm a husband, a father to two active kids (one is a teen now), a part time bookseller and an avid reader. On the rare occasion I have free time, I like to bike, read, play video games, and watch movies. Being an author has been a lifelong dream, and currently I'm hard at work writing/editing my next fantasy novel.
Archives
Error: Twitter did not respond. Please wait a few minutes and refresh this page.
Blogroll