Tag Archive | publishing
Hello Online Friends and Welcome to 2012. Today, I'm interviewing Indie Author Anastasia V. Pergakis, author of the fantasy novel, Cleanse Fire. We 'met' on Twitter (I've met so many wonderful authors on Twitter) and I thought I'd share with you my interview with her. Without further delay, Anastasia, welcome…let's begin:
1. Anastasia, I understand you're married, a mother of a young boy, and a stay-at-home mom. Being a stay-at-home dad myself, I know how hard it can be to find free time to write. How do you find the time and energy to be creative? Do you have a writing schedule? If so, does it help balance your writing life and your family life? 
I don't know if I ever really "find" the time and energy. It's more of…I overdose on caffeine! And really, I just have the mindset that it needs to be done and so I do it. The caffeine merely allows me the energy to do it all at once!
No actual writing schedule. I do what I call Binge Writing. I'll write 5,000 words one day but then not write anything for three days after that. But then I'll punch out another 5,000 words on day four. I don't think it keeps my life in "balance" exactly but it makes for less stress for me. I don't have to stress out over "Oh no, I didn't write today!" because I know that it's okay. I still make my bigger goals and deadlines and that's okay with me. 
2. Tell us about your recently published book. Do you have a short synopsis you'd like to share? Who do you see as your target audience? Where can we go to buy it? 
Cleanse Fire is a fantasy adventure novel, with edge-of-your-seat action. Epic battles, suspense, and a bit of romance too! Follow the Kinir Elite as they track down a traitor and find more than they bargained for. **Portions of profits for this book are given to the Wounded Warrior Project** 
Complete the mission, no matter what…
Captain Derac Vidor has served Kinir for nearly twenty years. It's his life, his blood. And then his Commander betrays everything Derac holds dear. Now he has to focus on his own life and his team instead of saving the citizens of Kinir. 
Treason is only the beginning…
Fueled by rage, the team chases the source to their Commander's betrayal – a powerful wizard bent on revenge. The wizard seeks to destroy the Kinir Elite, in both mind and body. No place is safe, even among their allies.
 The past holds the key…
Derac's tragic past may be the key to saving the team. But can he face the gruesome nightmare in time?
 Purchase Cleanse Fire
3. When did you first realize you were a writer? Has writing been a life-long dream or a recent development?
Welcome Readers to a new addition of The Ink-Competent Writer Blog — Author Interviews. My first interview is with the very talented Walter Shuler. Recently, I had the pleasure of reading his book, Celadonian Tales Vol: 1 Blood and Brass. As I wrote in my review, the book "is primarily three well-crafted, well-written short stories linked together by a mysterious narrating storyteller camped outside the great city of Celadon-home to things both beautiful and terrifying." If you have not had the pleasure of reading this book yet, you should get over to Smashwords or Amazon and pick up a copy of it.
And now, ladies and gentlemen, I'm proud to present, Walter Shuler.
1. Let's start by having you tell the readers a little about yourself? And not just where you're from and what you like for breakfast, but what makes you tick (besides coffee)?
You mean there's something OTHER than coffee out there? Ha! Well, I'm a fantasy writer who lives in Georgia… oh, wait. You said what makes me tick? Hm. You know, that's actually a pretty tough question.
I'm a pretty uncomplicated guy. Providing for my family gets me up in the morning, and telling stories helps me keep my sanity in a world that increasingly bewilders me. I value family and good friends (and a good stout!). I'm an escapist at heart, and that's definitely one of the reasons that I choose to write and read fantasy.
I'm not sure that really answers your question, but I hope it'll do. We can always do a vivisection to find out for sure!
2. When did you realize you were a writer? Read More…
Okay, the past few days have just been crazy and the craziness has to stop. Soon. Maybe today…tomorrow at the latest. It's time to focus on the words again and not on the numbers.
If you're a new author and you've just been published you probably know what I mean.
You just have to know if another book has sold since you've last been on the computer.
"Honey, what are you doing?"
"Just going to check something on the computer…"
"It's late, aren't you going to get some sleep?"
"Yeah, yeah, in just a minute…"
"Uh huh."
And if you're a married writer you probably know that 'uh huh' by now too.
"I'm going to go write for a little while."
"Just a little while?"
"Yep, probably no more than 30 minutes."
"Uh huh."
Let there be no misunderstanding — my wife is great! She is very understanding of my need to write and most of the time she let's me write without any interruptions. And the interruptions are good ones… Read More…
The Penitent Assassin
The Penitent Assassin Cover Art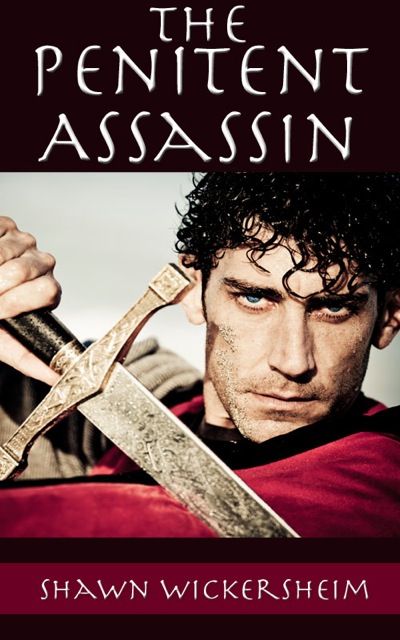 About Me
In addition to being the author of the fantasy ebooks, The Penitent Assassin, The Rush of Betrayal: Deception (Book One) and The Rush of Betrayal: Absolution (Book Two), I'm a husband, a father to two active kids (one is a teen now), a part time bookseller and an avid reader. On the rare occasion I have free time, I like to bike, read, play video games, and watch movies. Being an author has been a lifelong dream, and currently I'm hard at work writing/editing my next fantasy novel.
Archives
May 2018
M
T
W
T
F
S
S
« Mar
1
2
3
4
5
6
7
8
9
10
11
12
13
14
15
16
17
18
19
20
21
22
23
24
25
26
27
28
29
30
31
Blogroll